Destination Wedding Planner in Hua Hin
Congratulations on your upcoming wedding! If you have chosen the charming coastal town of Hua Hin as your dream destination, you are in for an unforgettable experience. As a trusted and experienced destination wedding planner in Hua Hin, we are here to turn your wedding vision into a reality, ensuring a seamless and memorable celebration that exceeds your expectations. With our extensive knowledge of Hua Hin and our handpicked selection of recommended wedding venues, we can help you discover the perfect location that showcases the beauty of this coastal paradise while reflecting your unique style and preferences.
Ready to get started?
Let's begin.
Why Choose Hua Hin for Your Destination Wedding?
Hua Hin offers a unique blend of natural beauty, cultural richness, and modern amenities, making it a perfect choice for couples seeking a romantic and idyllic setting for their wedding. With its pristine sandy beaches, stunning sunsets, and lush tropical landscapes, Hua Hin provides a picturesque backdrop that will leave you and your guests in awe.
The town itself exudes a relaxed and welcoming atmosphere, offering a harmonious blend of traditional Thai charm and contemporary comforts. From luxurious resorts and villas to world-class dining and entertainment options, Hua Hin provides the perfect balance of tranquility and excitement for your wedding celebration.
Hua Hin, A Destination of Wonder
Located on the Gulf of Thailand, approximately 200 kilometers south of Bangkok, Hua Hin is easily accessible and offers a plethora of attractions and activities to enhance your wedding experience.
Nature lovers will be captivated by the beauty of Khao Sam Roi Yot National Park, home to stunning limestone hills, wetlands, and an abundance of wildlife. Adventure enthusiasts can explore the vibrant underwater world while scuba diving or snorkeling in the crystal-clear waters surrounding Hua Hin. Golf enthusiasts can tee off at world-class golf courses with breathtaking views of the ocean.
For a touch of history and culture, visit the historic Hua Hin Railway Station, built during the reign of King Rama VI, or explore the splendid Maruekhathaiyawan Palace, also known as the Palace of Love and Hope. The Cicada Market, a vibrant night market showcasing local art, crafts, and live performances, offers a delightful shopping and dining experience for you and your guests.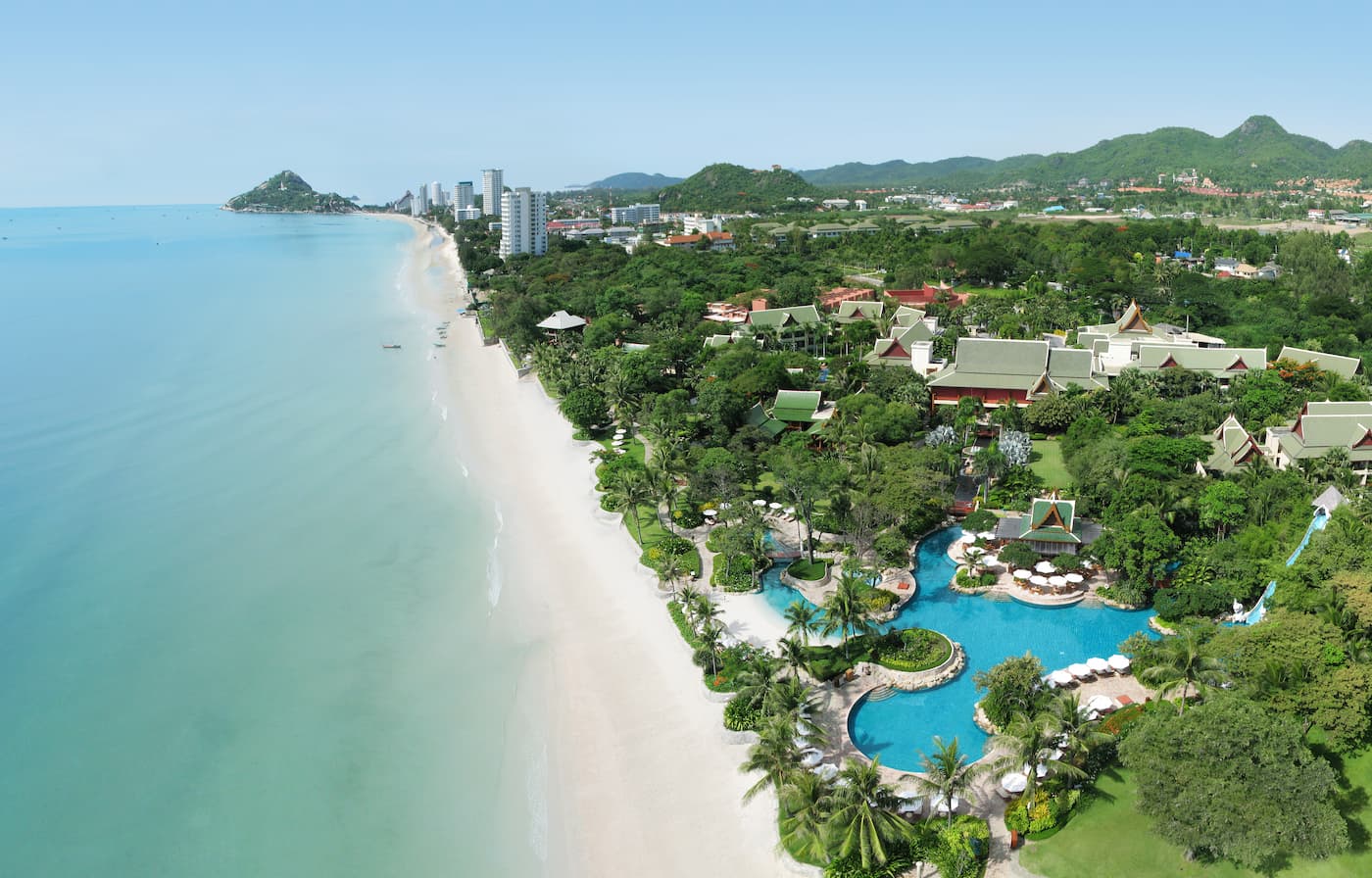 Climate: Hua Hin enjoys a pleasant tropical climate all year round, making it an ideal destination for a wedding. Temperatures range from 25°C (77°F) to 32°C (90°F), offering a comfortable and inviting atmosphere.
Best Time For A Wedding: The best time for a wedding in Hua Hin is during the dry season from November to February when you can expect pleasant weather with clear skies. March, April, and May are also suitable, but they are the hottest months with occasional heavy downpours. It's important to note that the wet season from July to October doesn't mean constant rain. While there may be unpredictable weather changes and evening showers, Hua Hin enjoys more sunny days compared to other beach destinations in Thailand.
Wedding Venues: Hua Hin boasts a diverse selection of enchanting wedding venues, catering to different preferences. From elegant beachfront resorts with breathtaking ocean views to serene gardens and exclusive private villas, you'll find the perfect setting to exchange vows and celebrate your special day.
Beaches: Prachuap Khiri Khan is a region renowned for its pristine beaches, providing a romantic backdrop for your wedding ceremony. Whether you choose the lively Hua Hin Beach, the tranquil Khao Takiab Beach, or the picturesque Suan Son Pradipat Beach, each offers its own unique charm and beauty.
Activities for Guests: Your guests will be delighted by the range of activities available in Hua Hin. From exploring the vibrant underwater world through snorkeling and diving adventures to embarking on island-hopping excursions, there are plenty of opportunities for unforgettable experiences. For those seeking relaxation, indulging in rejuvenating spa treatments or visiting the charming local night markets are perfect options.
Local Attractions: Hua Hin is home to a wealth of captivating attractions that will leave a lasting impression. Marvel at the magnificent Khao Takiab Temple, take a stroll along the lively Hua Hin Night Market, or venture out to explore the splendid Hua Hin Railway Station. Nature enthusiasts can also enjoy a visit to the nearby Kaeng Krachan National Park, renowned for its lush landscapes and diverse wildlife.
Transportation: Getting around Hua Hin is convenient and hassle-free. Taxis, private car hires, and shuttle services provided by many resorts are readily available for transportation needs. Additionally, renting a scooter is a popular choice, allowing you to explore the charming town and its surroundings at your own pace, taking in the scenic beauty along the way.
Getting Married in Hua Hin
Recommended Hua Hin Wedding Venues
Experience the charm and beauty of Hua Hin with our carefully selected collection of exceptional wedding venues. Whether you prefer an intimate and serene setting, a beachfront retreat, a blend of luxury and elegance, or a tranquil oasis surrounded by lush gardens, our recommended Hua Hin wedding venues offer the perfect backdrop for your special day. Let us guide you to the ideal venue that aligns with your vision, ensuring an unforgettable wedding experience in this enchanting destination.
Hyatt Regency
Experience an unforgettable wedding at the Hyatt Regency Hua Hin, a luxurious beachfront resort nestled in the vibrant town of Hua Hin, Thailand. With its stylish accommodations, direct access to the pristine beach, and breathtaking views of the Gulf of Thailand, this venue sets the stage for a truly magical celebration.
Immerse yourself in the enchanting ambiance of "The Barai," the resort's award-winning spa village designed to resemble a Thai temple. Here, you and your guests can indulge in personalized wellness programs and luxurious spa treatments, ensuring a pampering experience before your big day.
At the Hyatt Regency Hua Hin, every detail is meticulously curated to create an extraordinary wedding experience. From the exquisite venues to the impeccable service, your special day will be a true reflection of your love and style.
hyatt.com
Centara Grand Beach Resort & Villas
Celebrate your love story at the historic Centara Grand Hua Hin, Thailand's oldest beachfront hotel dating back to 1923. This iconic venue blends colonial charm with modern sophistication, providing an enchanting setting for your dream wedding.
As you step into the hotel's meticulously restored interiors, you'll be captivated by the timeless elegance that surrounds you. The Railway Restaurant, housed in antique railway carriages, offers a unique and romantic dining experience where you can savor delectable cuisine while basking in the ambiance of a bygone era.
With its prime beachfront location, Centara Grand Hua Hin provides a stunning backdrop for exchanging your vows. Imagine saying "I do" with the sound of waves crashing in the distance and golden sands beneath your feet, creating an unforgettable memory.
From the exceptional service to the charming details, Centara Grand Hua Hin ensures that your wedding day is flawlessly executed, leaving you and your guests with memories that will be cherished for a lifetime.
centarahotelsresorts.com/centaragrand/chbr
V Villas
For an intimate and exclusive wedding experience, V Villas Hua Hin offers a haven of tranquility and luxury. Nestled in the heart of Hua Hin, this boutique hotel provides a unique opportunity to create cherished memories in a secluded and enchanting setting.
Indulge in the Villassage service, where professional therapists can provide spa treatments in the privacy of your villa. Start your wedding day feeling refreshed and pampered, setting the tone for a day filled with love and joy.
Each villa at V Villas boasts a personal wine cellar stocked with a selection of premium wines. Raise a toast to your future together, enjoying fine wines within the privacy of your own villa, creating intimate moments to be treasured forever.
While reveling in the privacy of your villa, don't miss the opportunity to explore the charming town of Hua Hin. Borrow bicycles from the hotel and embark on a delightful adventure, discovering the local culture and creating unforgettable memories along the way.
vvillashuahin.com
Dusit Thani
Elevate your wedding celebration to new heights at Dusit Thani Hua Hin, a prestigious beachfront resort renowned for its elegant Thai-inspired architecture and lush tropical gardens. This enchanting venue offers a captivating blend of luxury, tranquility, and warm hospitality.
Immerse yourself in the refined atmosphere of this luxurious resort. Discover the beauty of Dusit Thani Hua Hin's stunning surroundings, with its meticulously manicured gardens and serene ambiance. As you exchange your vows, envision a picture-perfect moment with a golden beach as your backdrop, creating an idyllic setting for your love story. The hotel offers a range of well-appointed accommodations that provide comfort and style for you and your guests.
With its prime location near Hua Hin's attractions, your wedding at Dusit Thani Hua Hin will be surrounded by cultural richness. From the vibrant Night Market to the majestic Klai Kangwon Palace, you and your guests can explore the wonders of Hua Hin while reveling in your joyous union.
dusit.com/dusitthani-huahin/
InterContinental Hua Hin Resort
Immerse yourself in timeless elegance at the Intercontinental Hua Hin, a prestigious beachfront resort where dreams become reality. With its sophisticated design and world-class facilities, this venue promises an unforgettable wedding experience.
Dine at Pirom, the resort's signature restaurant, built on stilts over a lagoon, offering panoramic views of the Gulf of Thailand. Indulge in exquisite Thai cuisine while surrounded by breathtaking vistas, creating an atmosphere of romance and indulgence.
The Planet Trekkers kids' club ensures that your little ones are entertained and engaged throughout your wedding festivities. With a range of educational and fun activities, your children will be taken care of, allowing you to fully enjoy your special day.
Discover the beauty of Hua Hin with its renowned golf courses and captivating attractions. From the vibrant Hua Hin Market Village to the historic Hua Hin Railway Station, you and your guests can immerse yourselves in the rich culture and experiences that Hua Hin has to offer.
huahin.intercontinental.com
Palayana Hua Hin
Celebrate your wedding at Palayana Hua Hin, a charming boutique hotel tucked away in the heart of Hua Hin, Thailand. With its inviting ambiance, personalized service, and attention to detail, this hidden gem creates an idyllic setting for your dream wedding.
Palayana Hua Hin offers stylishly designed rooms and suites that provide a cozy and comfortable haven for you and your guests. Immerse yourself in the tranquil surroundings and enjoy a relaxing stay throughout your wedding celebrations.
Discover the charm of Hua Hin by borrowing bicycles from the hotel and embarking on a delightful adventure. Explore the local culture, create beautiful memories, and take in the captivating beauty of the town at your own pace.
Together with the dedicated team at The Palayana, we are committed to flawlessly executing every detail of your special day. From personalized full service wedding planning service to exquisite elopements, we go above and beyond to ensure your Hua Hin wedding experience reflects your unique love story.
Escape to Palayana Hua Hin and let the serene ambiance, warm hospitality, and attention to detail make your wedding day an unforgettable celebration of love and happiness.
thepalayana.com