Destination Wedding Planner in Phuket
Prepare yourself for an extraordinary adventure that will celebrate your love in the most breathtaking way imaginable. Welcome to Phuket, the exquisite gem nestled in the embrace of the Andaman Sea. Let us unveil the reasons why Phuket stands as the unrivaled destination for your dream wedding—a sanctuary where love blossoms and magical memories are born.
A Serenade Of Natural Beauty
Imagine exchanging your vows surrounded by the lush tropical beauty of Phuket, where turquoise waters meet pristine sandy beaches. The island boasts an array of stunning beaches that will take your breath away, setting the stage for a romantic and unforgettable wedding experience. Every step down the aisle will be accompanied by the gentle caress of a tropical breeze, creating an ambiance straight out of a fairytale.
With its stunning natural beauty, intimate venues, luxurious accommodations, and an abundance of love in the air, your special day in Phuket will be nothing short of extraordinary. Say "I do" to Phuket and let the enchantment of this tropical haven create memories that will warm your heart forever. Get ready to embark on the journey of a lifetime, where your dreams come true and love blossoms in the embrace of paradise.
Ready to get started?
Let's begin.
Climate: Phuket enjoys a tropical climate throughout the year, with temperatures ranging from 24°C (75°F) to 33°C (91°F).
Best Time For A Wedding: The ideal time for a destination wedding in Phuket is during the dry season, which typically extends from November to April. December to March is particularly favored, offering clear skies and pleasant temperatures.
Wedding Venues: Phuket presents a wide selection of stunning wedding venues, ranging from luxurious beachfront resorts to picturesque gardens and exclusive private villas.
Beaches: Phuket boasts an abundance of beautiful beaches, providing idyllic settings for wedding ceremonies. Popular choices include Patong Beach, Kata Beach, and Surin Beach.
Activities for Guests: Your guests will have an array of activities to enjoy in Phuket. From snorkeling, diving, and island hopping to indulging in spa treatments, visiting elephant sanctuaries, and exploring the island's temples, there is something for everyone.
Local Attractions: Phuket is home to captivating attractions such as the iconic Big Buddha, the stunning Wat Chalong temple, the vibrant Phuket Old Town, and the famous Phi Phi Islands, known for their breathtaking beauty.
Transportation: Getting around Phuket is convenient with options such as taxis, private car hires, and shuttle services provided by many resorts. Scooter rentals are also popular for exploring the island at your own pace.
Getting Married in Phuket
Our Favourite Phuket Wedding Venues
In our quest to create extraordinary wedding experiences, we have discovered the most captivating venues in Phuket. Below we have listed some of our favourite handpicked locations epitomize elegance and embody the essence of this tropical haven. From awe-inspiring beachfront settings to serene garden retreats, each venue is meticulously chosen to transform your wedding into an enchanting celebration of love. Allow us to unveil these remarkable settings that will make your dream wedding a reality.
Villa Aye
Discover Villa Aye, a hidden gem nestled on the hills of Kamala Bay in Phuket. This luxurious private villa offers unrivaled elegance and breathtaking panoramic views of the Andaman Sea. With its spacious and opulent design, Villa Aye sets the stage for an unforgettable destination wedding. From intimate ceremonies to grand celebrations, this exquisite venue provides the perfect backdrop for your special day. Indulge in the utmost privacy and personalized service, as you create lifelong memories in this idyllic paradise.
villaaye.com
Splash Beach Resort
Immerse yourself in beachfront bliss at Splash Beach Resort, an enchanting oasis located on Mai Khao Beach in Phuket. This picturesque resort offers a variety of stunning venues to host your dream wedding, from pristine white sandy beaches to lush tropical gardens. Whether you envision a romantic sunset ceremony or a grand ballroom affair, Splash Beach Resort caters to your every desire. With luxurious accommodations, exquisite dining options, and a dedicated wedding team, your special day will be flawlessly executed, leaving you and your guests with cherished memories that will last a lifetime.
splashbeachresort.com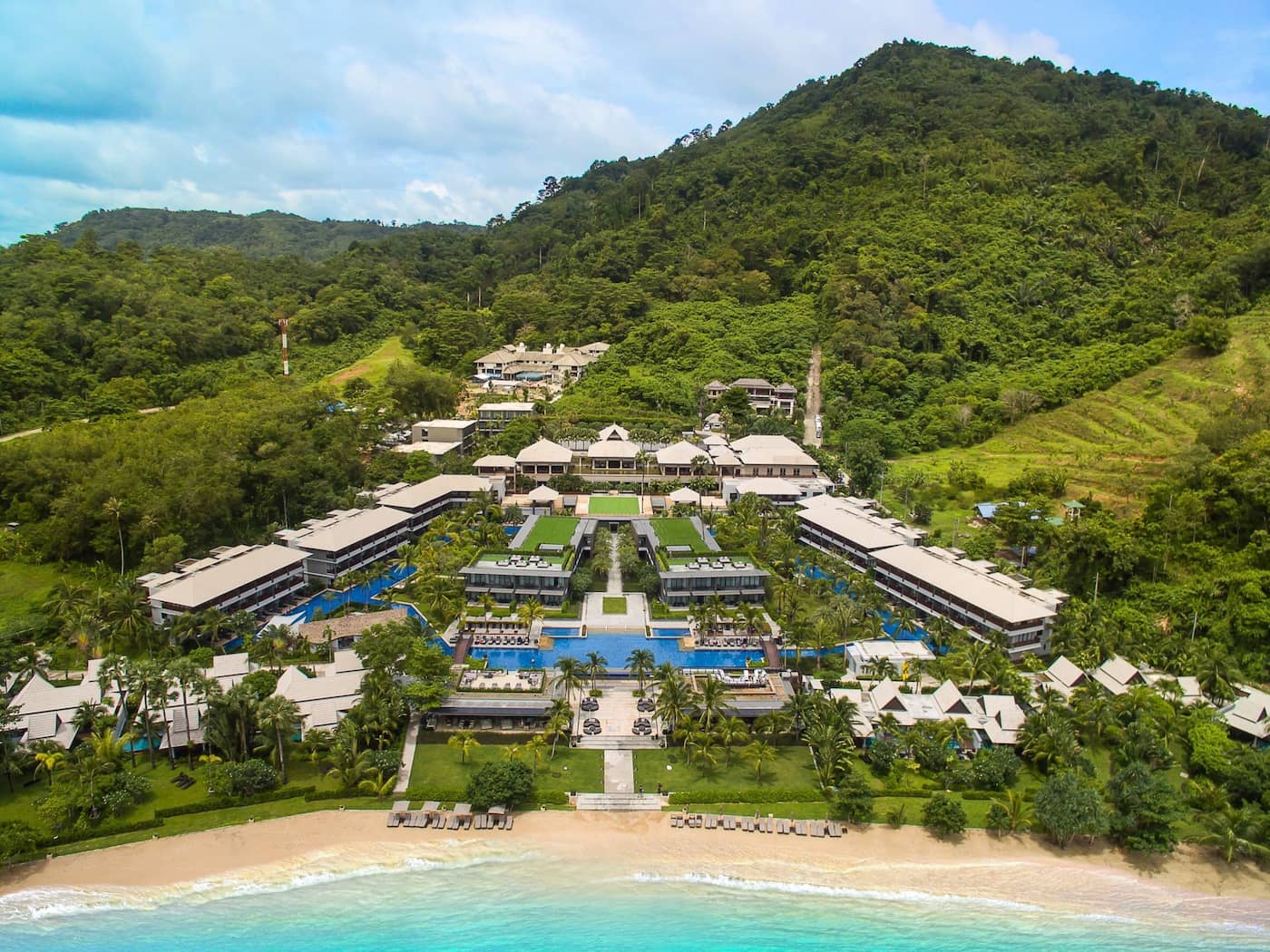 Marriott Nai Yang
Escape to the secluded paradise of Marriott Nai Yang Beach Resort in Phuket, where idyllic beachfront beauty awaits. This enchanting resort offers a range of venues to suit your wedding vision, from elegant ballrooms to intimate garden settings. Exchange vows against the backdrop of breathtaking sunsets and let the sound of crashing waves serenade your celebration. With luxurious accommodations, world-class amenities, and impeccable service, Marriott Nai Yang ensures that your destination wedding is a truly unforgettable experience.
phuketmarriottnaiyang.com
Angsana Laguna Phuket
Nestled along the picturesque shores of Phuket's Bang Tao Bay, Angsana Laguna Phuket is a captivating beachfront resort that offers an idyllic setting for your destination wedding. As part of the esteemed Laguna integrated resort, Angsana Laguna provides an immersive experience with its luxurious accommodations and impeccable service. The resort features 404 elegantly appointed rooms, ranging from Laguna rooms to luxurious loft suites and pool villas. With its wide collection of exquisite wedding venues, Angsana Laguna Phuket is the perfect choice to create unforgettable memories on your special day, the venues include:
The White Wedding Chapel on the lagoon, accommodating up to 50 guests in a classroom configuration or 80 guests in a free-standing setup;
For larger celebrations, the XANA & Azura Beach Front offers a scenic backdrop for up to 350 guests in a round table configuration or 700 guests in a free-standing setup
The Azura Lawn and Lagoon Deck, hosting up to 300 guests in a round table configuration or 500 guests in a free-standing setup;
The intimate Azura Upper Deck, perfect for smaller gatherings of up to 60 guests in a round table configuration or 100 guests in a free-standing setup.
angsana.com/thailand/laguna-phuket